Forwards Windows Logs to Syslog Server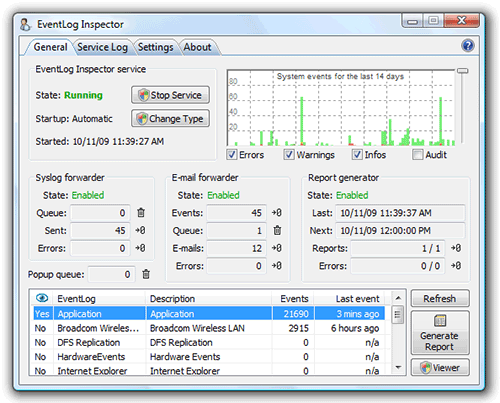 EventLog Inspector, a cost-effective tool for system administrators to extend Windows event log management. The tool provides administrators the ability to translate event log events to a syslog server or forward the events to a specified email address.
Forwards system events from Windows EventLog to a syslog server
Exports Windows EventLog records to text files or a database
Provides Windows EventLog reports for efficient analysis
Generates email alerts, popups and sound notifications
Windows XP – Windows 10 compatible, IPv6 ready
EventLog Inspector makes system administrators' everyday job easier by taking care of critical events registered by the Windows event log. While providing a perfectly machined interface for registering and archiving system events, Windows gives little built-in support for manipulating the events being registered.
EventLog Inspector extends the capabilities of the Windows event log journal by giving system administrators the ability to do more with the events being registered. With EventLog Inspector, it becomes possible to store events from all Windows workstations on a single syslog server. The product will automatically notify the administrator about selected events by email, or send comprehensive reports on events happening on all or certain network workstations.
Forwarding Event Log to Syslog
Syslog protocol is supported by almost all network devices and many operating systems. That is why it is a convenient way to organize a common center for collecting information on the network situation. Unfortunately, Microsoft Windows does not include a built-in feature for transferring its system events to syslog standard. EventLog Inspector compensates for this drawback and translates events to a syslog server.
Thanks to a flexible syslog format that supports EventLog Inspector, it is possible to generate syslogs that are compatible with a certain installed syslog server. This way, a maximum amount of information will be transferred.
Collecting system information in one place significantly simplifies network centralized administrating. When the filtration and notification are configured correctly, the administrator will learn about the problems arising on remote computers on time.
Screenshots