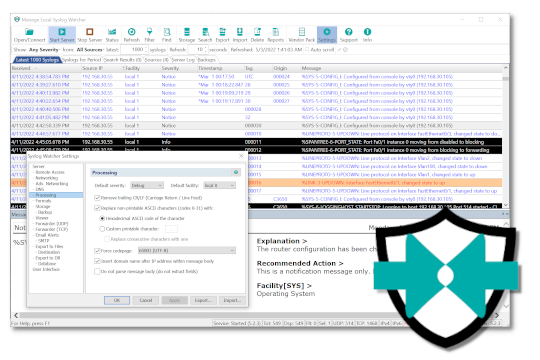 Syslog Watcher 6 is the current version of the product.
Comparison: Syslog Watcher 6 vs Syslog Watcher 5
We continue to provide consultation and support for Syslog Watcher 5.
Syslog Watcher 5 will not get new features, only minor updates.
You can order Pro License for Syslog Watcher 5 and later convert it to Professional License for Syslog Watcher 6 for free.
Download MSI Installer
Syslog Watcher 5 requires a license to work. The installer includes 30-day evaluation Pro License. After the evaluation license expires, you should purchase a license to continue using Syslog Watcher 5 server. You can also ask for a trial license extension if you need more time to evaluate.
Pro License for Syslog Watcher 5
All prices are is US dollars. Pro License includes technical support and free product updates during the Maintenance period.
Pro License
Maintenance: 12 months
SKU: SWCL-PRO-12
Pro License
Maintenance: 36 months
SKU: SWCL-PRO-36
Pro License
Maintenance: 60 months
SKU: SWCL-PRO-60
EZ5 Systems is under contract with PayPro Global, Inc. to process orders and collect payments. After clicking a link below, you will be redirected to the secure PayPro server to proceed with your purchase. You will receive an email with licensing information immediately after your payment is processed.
Syslog Watcher 5 Features
High Performance
Syslog Watcher has a high efficient multi-threaded architecture optimized for better performance.
Fast Syslog Storage
Syslog storage is designed to work under heavy load and can process thousands of syslog messages per second.
Advanced Networking
Syslog Watcher supports IPv4/IPv6 interfaces, Syslog over UDP as well as Syslog over TCP for reliability.
Email Alerts
Syslog Watcher generates emails in response to incoming syslogs to alert an administrator about important events.
Export to Database
Syslog Watcher can export collected data to any (SQL, NoSQL, file-based) database via ODBC connectors.
Export to Files
Syslog Watcher supports exporting collected syslog messages to any text file types, e.g., CSV, XML, JSON, etc.
Vendor Pack
Syslog reference that contains the meaning and recommended actions for more than 14,000 syslog messages.
Comprehensive Filtering
Syslog Watcher uses unified filtering rules for all operations. It includes processing of the message body using RegExps.
Smart Parser
The intellectual syslog parser determines the source type and correctly handles deviations from the standard.